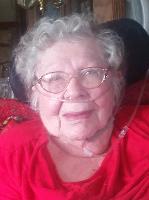 Lois Ann Hanf
Age 89 of Golden Valley, MN. Passed away March 28th, 2017 in Stillwater, MN. Born in Minneapolis, MN by parents Fred and Edna Heden.
Preceded in death by parents and Husband Leo Hanf. Survived by her brother Tom (Jane) Heden, Son David (Carol) Hanf, Son Daniel (Brenda) Hanf, Grandchildren; Shawn, Daniel Jr. (Elizabeth), Paul, Andrew and Great Grandchild Aubreana.
The Visitation (Food available) is from 4 PM until 6:30 PM with a Prayer Service to follow. Anderson Funeral Home at 1401 Arcade Street in St. Paul, MN on Sunday, April 2nd. Her final resting place will be at Fort Snelling cemetery with her Husband Leo.