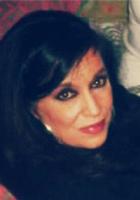 Vickie Marie Cawthorne
Vickie Cawthorne, 62, passed away unexpectedly at home on April 8, 2017. Vickie is the mother of Brigitte Cawthorne and a grandmother to little Royce. She grew up in St. Paul with her sisters, Jan and Shirley, and her parents, John and Vi.
She graduated from St. Paul Central High School and attended business school to pursue her "dream job" of court reporting. She lived in the St. Paul-area all of her life, and although she never did become a court reporter, she was a fabulous travel agent. Vickie visited far-off places and made many friends and acquaintances in her job for many years at Hobbit Travel. Vickie was a stylish and fashionable woman who liked to have fun. She met Prince when they were young, and he was interested in her, but she said "No". She always liked '80's R & B, but she stayed aware of current trends in music and entertainment. Mostly, Vickie was a good, kind and loving mother, sister, aunt and friend. Vickie was in love with her beautiful grandson, Royce, and her daughter, Brigitte. Vickie was proud of them and treasured the times they would be together.
She leaves in sadness her daughter, grandson, niece, sisters, Jan and Shirley and best friend forever, Sherry Monson and Sherry's family. Visitation is planned for Good Friday from 4:00 p.m. until 7:00 p.m., with a brief Lutheran service at 6:00 p.m. at the Anderson Funeral Home.