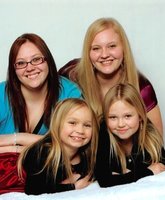 Elizabeth "Ellie" Mae Novak
Elizabeth "Ellie" Mae Novak
Elizabeth "Ellie" Mae Novak was born on May 1st, 1999 and passed away on October 16th, 2017.
She was preceded in death by her grandmother, LaDena Hazzard; and grandfather, Donald Hazzard.
Ellie is survived by her father, Lon Novak; mother, Ruth Novak; sisters, Stacy Flink, Rebecca Flink, and Abigail Novak; and grandparents, Allan & Sharon Novak.
Funeral Service will be 1:30 P.M. on Saturday, October 28, 2017 with Visitation starting 2 hours prior at Anderson Funeral Home, 1401 Arcade Street (Hwy 61), Saint Paul, Minnesota. Ellie's uncle, Neal Koenig, will be officiating.