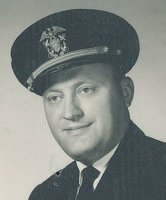 Carl William Elmquist
Carl was a Commander in the US Navy Dental Corps, lifelong Eastside resident and dentist in St. Paul for over 35 years. He passed away peacefully as he took his Lord's hand and was led to his eternal home.
A beloved husband to wife, Audrey, for 72 years; father of two sons, Carl (Charlene) & Richard (Perry); grandfather to Elizabeth (Dan), Andrea (James), Carl (Eliya) and 4 great-grandchildren; uncle to many nieces and nephews and a friend to everyone he met. He enjoyed skiing, fishing, golfing and spending time with family and friends.
He will be dearly missed. His family takes comfort in knowing that they will see him again, for Carl assured them that he had the peace of God and forgiveness of all sin, which he enjoyed by faith alone in Christ's death, burial and resurrection (Ephesians 1:13) (Romans 4:5).
Memorial Service on Wednesday at 2 PM at Anderson Funeral Home, 1401 Arcade St (Hwy 61), St. Paul. Private interment Fort Snelling. Life is short. Death is sure. Sin the cause. Christ the cure. JESUS SAVES.