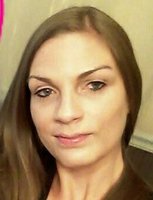 Megan Rae Maki
Megan was preceded in death by grandparents and aunt, Sharon. She is survived by parents, Robert & Marlys Maki; children, Eathen & Aryka; brother, Dustin; aunts, uncles, nieces, nephews and many friends.
Megan held her family close and enjoyed many things in life. Growing up she loved Michael Jackson, Teenage Mutant Ninja Turtles and watching as much Wrestlemania as she could. As an adult she enjoyed camping, cooking listening to Garth Brooks and watching all the Fast and Furious movies. Her favorite job was working as a barista at the Science Museum because it allowed her to explore all the different exhibits. She will be dearly missed by all that knew her.
A Memorial Service will be held at 4:00 PM on Wednesday, December 6th at Anderson Funeral Home, 1401 Arcade St (Hwy 61), St. Paul. The service will be followed by a visitation immediately after the service from 4:30 - 7:00 PM.
In lieu of flowers, memorials are preferred.