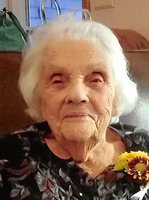 MaryAnn Susan Testa
MaryAnn Susan Testa
Age 93 ~ Longtime Resident of East St. Paul
MaryAnn passed away peacefully on December 25, 2017. She was preceded in death by her husband, Louis; daughter, Janet Lynn; and son-in-law, Dennis Landucci.
MaryAnn is survived by her children, Kathy Landucci, Fran (Duane) Hall, Frank (Dianne), Richard (Dianne), Jean (Jim) Tansey, David, Barb (Craig) Moody, Debbie (Curt) Arrigoni; many loving grandchildren & great-grandchildren; nieces & nephews; and furry companion, Maggie.
Funeral Service is 7:00PM on Saturday, December 30, 2017 at Anderson Funeral Home, 1401 Arcade Street (Hwy 61), Saint Paul, Minnesota. Visitation 2 hours prior to the service. In lieu of flowers, memorials are preferred to her great-grandson, Guy Hendrik Moody, born on November 15, 2017, for his continuing medical care. Please make checks payable to James Moody and mail to Anderson Funeral Home.