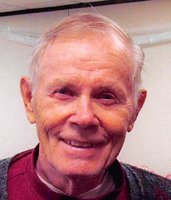 Robert Luke Krawczewski
Robert L. Krawczewski
Age 83 of Saint Paul, Minnesota, died on Friday, January 5, 2018. Bob was born in Saint Paul, MN and spent most of his life living on the eastside. He attended Johnson High School for a couple of years and later got his GED while in the navy. Bob was in the navy from July 1954 to July 1959. After returning home from the navy he attended the University of Minnesota where he earned a Bachelor's Degree. Following that, Bob worked at the employment office in Little Falls for a few years. In May 1969 he returned to Saint Paul and began working as a claims examiner for the Veterans Administration at Fort Snelling. He retired from there in January of 1994. Bob married his wife, Shirley, in October 1976 at the Fort Snelling Chapel. The following year Kristina was born, and in 1979 came Steven. Bob loved seeing both of them grow up and participate in various sports. Kristina married Steve Daum, and their son, Josh, was born in 2000 and Luke in 2004. Josh and Luke excel in soccer, and Bob enjoyed having the opportunity to watch them play. Bob enjoyed watching a variety of sports but baseball was number one on his list. He liked to play softball, ski, golf, bowl, and fish. He enjoyed taking trips with the family. The annual one-week vacation with family and friends staying at a lakeside cabin and being able to fish every day was something he always looked forward to.
Robert was preceded in death by his parents, Luke & Catherine Krawczewski. He is survived by his wife, Shirley; daughter, Kristina (Steve) Daum; son, Steve Krawczewski; grandsons, Josh & Luke Daum; sister, Joan (Hugh) Hehner; nephew, Mike (Betsy) Hehner; nieces, Kathy (Fred) Yerich, and Shelly Hehner (Perry Zombolas).
Memorial Service will be 2:00pm on Sunday, January 21st, 2018 at Anderson Funeral Home, 1401 Arcade Street, (Hwy 61), Saint Paul. Visitation will take place 1 hour prior to the service.
Robert will be interred at Fort Snelling National Cemetery on Monday, January 22nd, 2018 at 10:00am.
In lieu of flowers, donations are preferred to the Alzheimer's Association.