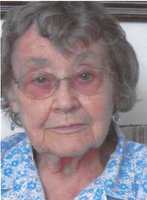 MaryAnn Zastera
MaryAnn Zastera
July 17, 1922 ~ January 3, 2018
Mom finally "found a home." She lived a long, prosperous and creative life before dementia took her. MaryAnn was known for her cooking, quilting and beautiful oil paintings. She also enjoyed traveling, crocheting, and sewing.
She was preceded in death by her husband of 60 years, James; and sons, Dan James and Joseph. MaryAnn is survived by her son, Marc; daughter, Jane (Jeff) Opitz; grandchildren, Dania, Kyle, and Jenae Opitz; Jeremy and Jordan James, and Kristin (Michael) Wisniewski; and great-grandchildren, Reagan, Lilliana, Paxton, and Natalie.
Visitation from 11:00AM to 4:00PM with Funeral Service at 4:00PM on Sunday, January 14, 2018 at Anderson Funeral Home, 1401 Arcade Street (Hwy 61), Saint Paul, Minnesota. Private Interment at Fort Snelling National Cemetery in Minneapolis.