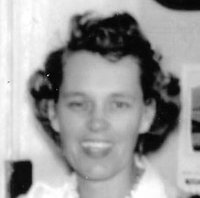 Ruby L. Donohoo (Miller)
Ruby L. Donohoo (Miller)
Beloved Wife, Mother, and Dear Friend
Ruby died on Monday, January 8, 2018 at age 95. She was preceded in death by husbands, Marvin R. Miller and Adrian D. Donohoo; daughter, Beverly Sivertson; son, Emil R. Miller; and grandson, Michael Anderson. She is survived by her daughter, Florence Janecek; sons, Roland, David, and Donald Miller; dear friend, John Sipf; 8 grandchildren; many great and great-great-grandchildren; sister, Millie Delaney; and many nieces and nephews.
Ruby was born on July 6, 1922 in St. John's, Newfoundland, Canada. She retired from State Farm and was a member of the St. Paul Powder Puff Clown Club. Special thanks to HealthEast Hospice, St. Paul & Woodbury Care Center.
Graveside Service take place at 10:00AM on Friday, January 19, 2018 at Union Cemetery, 2505 E. Minnehaha, Maplewood. Luncheon to Follow. No Flowers.