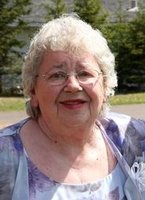 Delores M. Simones
Delores M. Simones, age 86 of Saint Paul, born June 09, 1931, passed away on Monday, March 12th, 2018 in Sun City West, Arizona. Memorial Service will be held at Anderson Funeral Home, 1401 Arcade Street (Hwy 61), Saint Paul, Minnesota on Sunday, April 22nd, 2018 at 3:00p.m. with Visitation 1 hour prior.

Delores was preceded in death by her husband, Ralph Sr.; son, Henry John; son-in-law Tim Daley; granddaughter, Jennifer Daley; brother, Henry Grieman, his wife, Marge, and their son, Greg; sister, Marie Grieman; and brother, Joe Grieman. Delores is survived by her daughters, Kathy Daley, and Rose (Barry) Kaufman; sons, Ralph Jr. "Tony"(Stephanie), and Steve (June). Grandchildren: Jeanna, Jacob, Christopher (Rochelle), John, Joshua, Nicole, Steven, Joseph (Negin), Michael (Anna), Janelle (Nikki), and Emily (Bryan). Great grandchildren: Kristina, Cordell, Kaylee, Jadelyn, Michael, Alexandra, Grace, Cooper, Isla, and Dallas. Great-great grandchildren: Jayden, and Azariah. She is also survived by sisters-in-law: Joan, Pat, and Marie; brother-in-law: Phil and many nieces and nephews.
Delores lived most of her entire life in St. Paul, Minnesota where she met her husband, Ralph. They married in 1954 and together raised four children to be open minded, loving, caring, and forgiving - just as they were. Each of their children carried on the tradition by marrying and raising their children in much the same way. The results were rewarding for Delores & Ralph; they received twelve grandchildren, nine great-grandchildren and two great-great-grandchildren.

Though Delores & Ralph devoted much of their time and energy to raising a family and having the grandkids for sleepovers, they still found time to enjoy their life together bowling, playing cribbage and enjoying each other's company. The life Delores led was simple, non-materialistic; her values were rooted from a catholic upbringing in a family that loved one another, putting the needs of the family first. These values were passed on by example. Delores loved to bake cookies for and with the grandkids teaching them the secrets of family recipes, the art of crocheting and being a nonjudgmental ear for them to confide in. After her husband passed in 1998 Delores decided to move to Arizona in 2012 and live with her daughter, Rose, enjoying the sunshine and snowless winters of the desert. Being over 1500 miles from her home town of 81 years didn't stop her from being the Matriarch of the family, she adapted to using social media and a cellular phone, keeping in touch with her children, grandchildren, nieces and nephews and lifelong friend, Sheila Zachrison.

The love Delores, my mom, gave so willingly and unconditionally inspired me to write this poem to honor her.
A MOTHER'S LOVE
BY STEVE SIMONES
A MOTHER'S LOVE IS YOUR FIRST
SHE IS THE FIRST ONE TO HOLD YOU
AND DRY YOUR TEARS
FIRST ONE TO NURTURE YOU
AND SOOTHE YOUR FEARS
A MOTHER'S LOVE IS OMNIPOTENT
SHE CAN HEAL OUR PAINS
WITH JUST A KISS
AND DELIVER JUSTICE
WHEN WE'VE BEEN AMISS
A MOTHER'S LOVE IS UNSELFISH
SHE WANTS AND NEEDS LESS
SO WE CAN HAVE MORE
AND SHE UNWILLINGLY STEPS ASIDE
WHEN IT IS TIME TO LEAVE HER DOOR
A MOTHER'S LOVE CAN NOT BE VANQUISHED
BY DISTANCE, TIME OR DEED
NOR CAN IT BE ALTERED
BY THE LIFE WE LEAD
A MOTHER'S LOVE ISN'T FORTUITOUS
OR PROVISIONAL
A MOTHER'S LOVE IS A GIFT FROM GOD
HE MADE IT UNCONDITIONAL