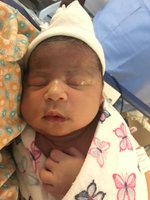 Aleyah Reign Dickens
Aleyah Reign Dickens passed away in the arms of her parents, Devonte Dickens & Justine Davison. Beloved sister of Anaiya; Granddaughter of Harold Dickens & Marissa Moore-Dickens, and Coreen Davison & Thomas Davison; Great-Granddaughter of Daniel & Rose Mueller, Mary Moore, and Thomas & Andra Davison; Niece of Jacob, Joslyn, Jonah, and Julia Davison, and Devonne, Diamond, and Tiaria Dickens. Aleyah was preceded in death by her great-grandmother, Ruby Dickens; and Aaron Davison.
Aleyah died on Tuesday, September 24th, 2019 at only 17 days of age. She was such a fighter and overcame her predetermined heart condition. Unfortunately, on Wednesday, September 18th, 2019 she developed an undetermined abdominal illness. After undergoing surgery, it was determined that her intestines were necrotic and she was unable to sustain life. With sadness we had to remove all life support and let her take her place in Heaven.
Funeral Service will be 12:00 PM Noon on Saturday, September 28th, 2019 at Anderson Funeral Home, 1401 Arcade Street (Hwy 61), Saint Paul, with Visitation 1 hour prior to the service. Interment at Elmhurst Cemetery in Saint Paul. Following the burial, there will be a reception at North Haven Church, 2240 E. 15th Ave, North St. Paul, MN 55109.