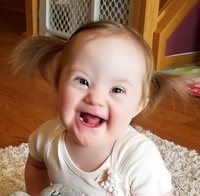 Serenity Rose Torgerson
Serenity Rose Torgerson
Age 2, died on Thursday, January 4, 2018. Serenity is survived by her loving parents, Janell & Matthew; grandparents, Dave & Rose Holmberg, Sue Torgerson, and Al and Donna Torgerson; great-grandmother, Ellen Marek; Uncles & Aunts, Richard Torgerson, Julie (Lynn) Hervas, Jenny (Tim Duggan) Holmberg, David (Sheila) Holmberg, and Jill (Dino) Marino; cousins, BrookLynn, Vinny, Madeline, and Troy; and many other loving and supporting family and friends.
Serenity will be deeply missed by everyone she touched. Her beautiful and contagious smile will live on.
Memorial Service will be 11:00AM Friday, January 19, 2018 at LifePoint Church, 2220 Edgerton Street, Saint Paul, Minnesota with Visitation 2 hours prior to the service.
In lieu of flowers, donations preferred to Crescent Cove Children's Respite & Hospice Home.