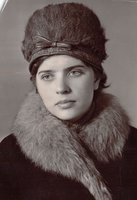 Ludmila Vasilyeva
Ludmila Petrovna Vasilyeva continued the line of wonderful women in the family remembered by their kindness, steadfast love for their kin, and dedicated laborious service for others. She was born in the city of Novosibirsk in Russia to Vera and Pyotr at the beginning of the second world war, to which she lost her father while being only 16 days old.
A talented, beautiful, and strong willed child sprung to become a dutiful and caring wife, mother, and nurse who excelled in everything she did.
Ludmila drew so many people to herself with her charm, bold authenticity, lively nature, and her inexhaustible charity. She worked hard and really enjoy it. Her beautiful strong voice adorned the table feasts and accompanied any work – whether cooking, cleaning, or gardening.
Ludmila and Yuri's marriage – which marked its 57th anniversary this year – was a happy and blessed union, giving life to two daughters, Elena and Anneta, and many more grandchildren and great-grandchildren, for whom she was the center of the family universe. All of them she generously nurtured and pampered with love. They called her Mama Lucy. Her gatherings with family and friends around her table, adorned with her exquisite culinary artistry, will stay as a memory with many as an image of her soulful hospitality and care. Now may God give her a good place around his marvelous table in his heavenly kingdom.