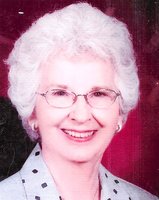 Elizabeth "Betty" Gutsche
Betty was born in Mankato, Minnesota on October 14, 1930 and died on April 5, 2018 at the age of 87. She was the oldest of two children born to Floyd and Maurine Roberts. Her father was a buttermaker in Smith's Mill, MN.
Betty graduated from Elk River HS in 1948. She graduated from Mounds-Midway school of nursing in 1952. In September of that same year, she married Irvin Gutsche, a brother of one of her classmates. Betty worked at Mounds Park Hospital for 10 years and at United Hospital for almost 30 years before retiring in 1993. They lived in the St. Paul area all their lives and enjoyed their cabin in summer, and winters in Florida and Alabama for several years. She was a member of Trinity Baptist Church and enjoyed serving her Lord there in several capacities. Her children, grandchildren and great-grandchildren were her delight and she prayed regularly that they would all "delight" in her Lord and Savior as she had. Surviving Betty are her 2 daughters: Susan (Dale) Mitchell of Merrill, WI, and Mary (Gary) Florke of Marine on St. Croix; 3 sons: Richard, of Maplewood, Russell (Hellen) of Minneapolis, and Daniel (Tiffany) of St. Paul. She is also survived by 9 grandchildren, 9 great-grandchildren.
Funeral will be at 11:00am on Thursday, April 12, 2018 at LifePoint Church, 2220 Edgerton Street, Maplewood, Minnesota. Visitation from 5-8 pm on Wednesday, April 11, 2018 at Anderson Funeral Home, 1401 Arcade Street, Saint Paul, Minnesota, and one hour prior to the service at church.