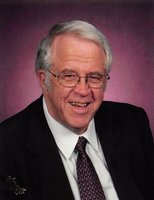 O. Jerome "Buddy" Madson
O. Jerome "Buddy" Madson, of Brooklyn Center, formerly of Mora (from 1970-1989), St. Paul, and Maple Grove, died on Friday, April 6, 2018 at Maranatha Care Center in Brooklyn Center. He was 83 years old. He was born Nov. 17, 1934, in Portland, North Dakota to Milton H. and Irene J. (Haugen) Madson.
He was baptized and confirmed in the Lutheran faith and grew up in Portland. He graduated from Portland High School. He worked for the VA in Fargo, North Dakota, as a correctional officer at the Federal Correctional Institution in Sandstone, as funeral assistant at Akkerman Funeral Home in Mora and at Anderson Funeral Home in St. Paul. He was a member of Discover Lutheran Church, Brooklyn Park and National Association of Retired Federal Employees.
In 1959, he was united in marriage to Janet M. Christopherson. They were the parents of Debra (Dennis) Olson and Diane (David) Nelson; as well as grandparents of Katherine (James) Conley and John Olson, all of Brooklyn Park. He is also survived by sister, Alice Steinke of Longmont, Colorado; and brother Milton (Janice) Madson of St. Paul, one brother-in-law, Verne Thompson of North Dakota, one sister-in-law, Terry Christopherson of Wisconsin; and many nieces, nephews, and close family and friends.
He was preceded in death by his wife, Janet; parents; sister, Elaine Thompson; and two brothers-in-law, Paul Steinke and Allen Christopherson.
Funeral Service will be 11:00AM on Friday, April 13th, 2018 at Discover Church, 1400 81st Ave N, Brooklyn Park, Minnesota. Visitation at church from 9:00-11:00AM on Friday. Interment in Mayville, North Dakota. Memorials preferred to the National Marfan Foundation.