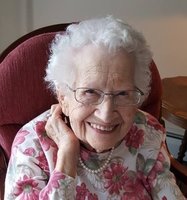 Nefa Iola Madison-Rutz
Nefa Madison-Rutz, age 98-3/4, went home to be with the Lord Jesus, her Savior, on Monday, April 9, 2018. She was born on July 8, 1919 to Anton and Ida Anderson in Lawton, WI.
Nefa worked as a waitress at the Red Wing Grill and then Nybo's in Red Wing where she met Carl Madison. They married on June 28, 1941 and lived in Red Wing until they moved to St. Paul in 1952. In 1954 they became life-long members of First Covenant Church and moved to the East Side of St. Paul and stayed at that house until Carl's death in 1986. She also worked as a cake decorator at the Danish Bakery for many years
On May 9, 2009, at 89 years young, Nefa found love again and married John Rutz. They had 2 years, 2 months and 21 days together until his death in July, 2011. They took a small road trip in 2010 which covered 11,000 miles around the US in 10 weeks.
At Christmastime there was plenty of lefse and other Norwegian goodies. Nefa was very artistic and expressed her abilities through many different creative forms – painting and making hand painted cards being her focus in later years. She enjoyed finding bargains at auctions, estate and garage sales and thrift stores. The macular degeneration that she had for 26 years limited her abilities and what she could see, but she never complained.
In 1950, Nefa gave her life to Jesus and it forever changed her life. She lived the way all people should live - loving others. Nefa gave so much with her love and smile. Always a smile for everyone. Everyone that met her, loved her and some said they wanted to take her home. God was first with her but also family and friends were everything to her. Her love of Jesus shined from her. She drew people in with her smile and love. Always concerned about others before herself.
She was preceded in death by husbands, Carl F. Madison, and John K. Rutz; parents, Anton & Ida Anderson; brothers, Helmer, Sherman, Quentin, and Freeman Anderson; and sisters, Irene Oelkers, Nixie Lorentz, and Eleanor Melquist. Nefa is survived by her daughters, Gayle (Paul) Nyhuis, Janet (Ken) Shively, and Karen Kubiak; stepchildren, Ken, Kathy, and Ron Rutz, and their families; 6 grandchildren, Jennifer (John) Reid, Sara (Scott) Gregg, Adam (Brittany) Shively, Matt (Emily) Shively, Deanna (Mark) Wuotila and Molly (Garrett) Wuorinen; 10 great-grandchildren, Kayla Reid, Kendra and Krista Gregg, Linnea and Karin Shively, Kaeli, Isaac and Clara Wuotila, and Alexa and Zoey Wuorinen; sisters-in-law, Mary Thomforde and Lorraine Anderson; and many very special nieces & nephews.
The Celebration of Nefa's Life will be at 11:00 AM on Monday, April 23, 2018 at First Covenant Church, 1280 Arcade Street, Saint Paul, MN. Visitation at the church one hour prior to service. Nefa shared God's love with everyone through her smile and loving words of encouragement and concern. Her heart's desire: that everyone know Jesus in a personal way. Memorials preferred.