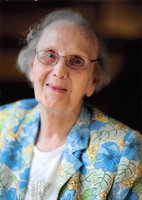 Blanche Adeline Hippe (Bruhn)
Blanche Adeline Hippe (Bruhn), of Saint Paul, died on Monday, November 26th, 2018 at the age of 97.
She was preceded in death by her husbands, Henry "Hank" Hippe and Robert "Bob" Bruhn. Blanche is survived by her children, William (Claudia), Richard, Ronald (Laurie) and Roger (Rose); grandchildren, Nathan, Jesse, Emily, Anna, Grace, Joshua, Nick, Nora, Charlie, Rachel, Matthew, Hannah, Ben, Justin, Lauren, William, Victoria, and Logan; great-grandchildren, Taylor, Megan, Amanda, Michael, Rowan; Sydney, Maya, Foster, Toby; and great-great-grandchild, Tom.
Visitation begins at 10:00am, with Funeral Service at 11:00am on Saturday, December 1st, 2018 at Anderson Funeral Home, 1401 Arcade Street, Saint Paul, with luncheon to follow. Interment at Oakland Cemetery in Saint Paul. In lieu of flowers, memorials preferred to the Union Gospel Mission.