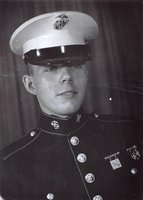 Benhardt N. Meents
"Papa Ben"
October 5, 1937 - May 6, 2019
Passed away peacefully at home. Preceded in death by parents, Mr. & Mrs. Ben C. Meents.
Survived by wife of 50 years, Susan; sister, Mary Lou Lynch; sons, Michael (Lori), and Benjamin (Chet); daughter, Gretchen (Joe) Spier; and 6 grandchildren.
10:00AM Visitation followed by an 11:00AM Memorial Service on Tuesday, May 14th, 2019 at Anderson Funeral Home, 1401 Arcade Street (Hwy 61), St. Paul.
Private Interment. Memorials Preferred.
Semper Fidelis