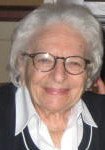 Elizabeth B. Seropian
Elizabeth passed away in late March of 2019 at Woodwinds Hospital at the age of 95. Elizabeth had lived in St. Paul for the majority of her life, and then lived in Woodbury more recently. She was an IRS retiree. Elizabeth spent 37 years with the IRS; however, she worked for 3M (St. Paul) and CBS Labs (New York City) in the early 1950's. This lady was a dedicated Christian who loved God, her family, her friends and the USA. She was born in the U.S. to Armenian immigrant parents. Her husband, Edward Seropian, preceded her in death as did two of her sisters, Eva and Harriet. Elizabeth is survived by her very loving, dedicated daughter, Juliette. She will also be missed by her sisters, Maline Broburg, Dr. Lucy Rorke-Adams and her husband, C. Harry Knowles; nieces, nephews and friends.
The funeral will be held at 6:00PM on Friday, May 31, 2019 at First Baptist Church, 499 Wacouta Street, Saint Paul. Visitation will be one hour before the service.