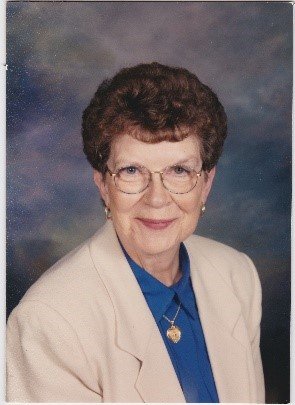 Obituary of Colleen Borgschatz
Colleen Borgschatz, beloved mother, grandma, and great-grandma, passed away on Friday, July 27, 2018 at St. Crispin Living Community in Red Wing. She was 85.
Colleen Chloe Borgschatz was born November 26, 1932 in Wabash, Ind. to Francis and Helen (Shipley) Shephard. She attended school in Red Wing. On November 17, 1950, she married Merlyn B. Borgschatz at St. John's Evangelical Lutheran Church in Frontenac.
Colleen lived the majority of her life in Frontenac where she was a long-time member of St. John's Evangelical Church. She worked at Riedell for 25 years, retiring in 1997. After retiring from Riedell, Colleen worked for the Red Wing Housing and Redevelopment Authority. She received her GED in 2004. In 1993, Colleen moved to Red Wing where she resided until her death. Collen enjoyed reading, cooking, and loved a good game of scrabble. She loved her family unconditionally.
Colleen is survived by her children, Stephan (Sandy) Borgschatz of Mauston, WI; Robert (Kim Wilson) Borgschatz of Bellchester, MN; Suzanne (Darren) Hanson of Minot, ND; Michael Borgschatz of Old Frontenac, MN; and Kevin (Donna) Borgschatz of Elmwood, WI; 11 grandchildren, Travis, Tyler, Zack, Kelcey, Kyle, Andrea, Alex, Ben, Mariah, Hailey and Dylan; 16 great-grandchildren; sister-in-law, Anita Enevold of Radcliffe, Kentucky and sister-in-law Doris Borgschatz; many other relatives and friends. She was preceded in death by her parents, Francis and Helen Shephard; husband, Merlyn; three brothers, Cecil, Bob, and Victor; sister, Virginia Steffenhagen; three grandchildren, Colleen, Adam and Trevor.
A memorial service for Colleen Chloe Borgschatz will be at 11 a.m. on Saturday, August 4, 2018 at St. John's Evangelical Lutheran Church, 33685 Germania Street in Frontenac, Minnesota, with Pastor Stephen Kurtzahn officiating. Visitation will be from 10-11 a.m. prior to the service at the church. Burial will follow the service at Frontenac Cemetery in Old Frontenac.