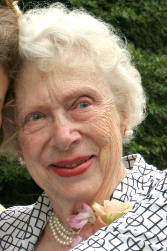 Obituary of Mary "Susie" Ficken
Mary Harman Ficken, known to many of her friends as Susie, passed away peacefully on Tuesday, June 26, at Presbyterian Homes in Roseville, MN, at the age of 101.
Mary was born on November 26, 1916 in New Martinsville, WV, and was the only child of J. William Harman and Edna (Headlee) Harman. She earned her bachelor's degree from Western College for Women in Oxford, OH, and her master's degree in mathematics from Cornell University in Ithaca, NY. It was at Cornell that she met mathematics professor Frederick Ficken, whom she married in 1940 in New Martinsville. After Cornell, they moved to Knoxville, TN, where they spent many happy years teaching at the University of Tennessee before moving to Pelham, NY, where Mary taught mathematics at New York University and at Pace University. After the death of her husband and then her mother, she moved to Belleair, FL, where she was active in the garden club and delivering Meals on Wheels to the "old folks" until, at age 96, she moved to Minnesota to be near her son.
She is survived by her son, William Harman Ficken and his wife Lynne Bishop, of St. Paul, MN, and her four grandchildren & four great-grandchildren: Christopher Ficken, his wife Sarah and their children Hannah & Ariel, of Munnsville, NY; Katherine Anne Duncan, her husband Frank and their children Gwyneth & Blythe, of Chicago, IL; Edward Ficken and his wife Ellie of Greenville, SC; and Susan Ficken of Arnold, MD.
Mary was preceded in death by her husband, Fred Ficken, in 1978; and she will be interred beside him in Kensico Cemetery in Valhalla, NY. A memorial service and a procession of honor was held at Presbyterian Homes, where she was dearly loved by staff & other residents.
Arrangements by Anderson Funeral Home of St. Paul, Minnesota. (651)776-2761 www.andersonfuneralhome.com